PREPPING YOUR BUILDING FOR THE SUMMER MONTHS
The seasons with the most extreme weather – summer and winter – are the hardest on your building and your roof. These seasons often require extra attention to ensure that your building operates at peak performance. In this series of posts, we've got some summer building maintenance tips to make sure your building remains safe, clean, and efficient throughout the summer months, some of the hardest months during the year.
Perform a Spring Walkthrough
The best way to keep your building operating well in the summer is to make sure it's in good shape before summer hits. You need to inspect your building before the grueling summer months hit, so that you get ahead of any problems, rather than trying to solve them after the fact.
A spring walkthrough should address all issues within your building: equipment inspections, check door sweeps, door stops, light bulbs, floor and ceiling tiles, and as much else as you can. A thorough spring walkthrough will get your building operating in tip-top shape for summer.
Deep Clean Floors
Winter and spring are the two seasons that produce the most precipitation throughout the year. Winter sees your building occupants tracking in snow and salt every time they enter your building. Spring sees them tracking in water and mud from all the rain. This dirties your floor and can stain your carpets. Keep things clean and looking nice with a deep clean of all floors when the rain starts to subside in spring-summer.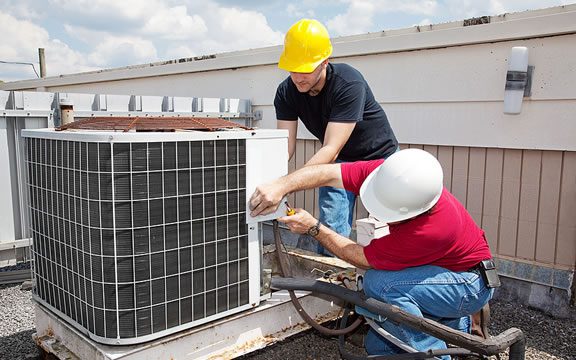 Perform an AC Tune-Up
Your AC unit has been mostly dormant for the back end of fall, all of winter and parts of spring – about half the year. Before firing the AC up and pumping air through your building, it's usually a good idea to give it a tune-up. Paying a professional to come out and perform this tune-up is the most effective way to make sure it's in prime condition for summer.
Focus on Your First Impressions
It can be easy to forget, but you want your building to look nice so that you can impress customers and potential customers when they enter the front door. As customers walk through your building, they should continue to be impressed. Your building is often the first impression you get to make on your customers, and that means it's important. Ensuring that signage is in place, professional, and clear is a must. Clean floors, a welcoming receptionist, a well decorated office. All these things play a key part in your impression on your customers.
Conclusion
Summer is one of the hardest times of the year for your building. Prep your building before it hits and you will be good to go for the hot summer months. If you follow these tips, your building will operate more efficiently and your customers will be impressed with your building.