About IRC
For customers looking for a carefree roofing experience from someone they can trust, we have become the go-to contractor in the Spray Foam industry. Our commitment to customer service, integrity, and quality, means that you can trust our recommendations and our decisions for your roof. We are a family-owned and operated business and have been since we opened our doors in 1974. We were committed to quality and doing the right thing back then, and we still are today. We have worked hard every single day to build a reputation with our customers as a vendor that they can trust and depend on for all their roofing needs.


When we first started working with spray foam in 1974, we worked out of a pickup truck and only applied spray foam. Well, those humble beginnings built the character and integrity that we still live by today.


From those first jobs out of the pickup, our company has grown into the largest spray foam roofing contractor in the US. Since 1974, we have completed nearly 9,000 jobs for our customers and have installed over 140 million square feet of roof, most of which was spray foam.


While the large majority of our work is still Spray Foam, we have expanded our product line to include other roofing materials so that we can better serve our customers. So, whether you need a roof on a new-construction job, need a spray foam roof installed over your existing roof, need repairs made to your roof, or need an annual maintenance agreement to keep your roof in tip-top shape, we have the expertise, knowledge, and experience to get the job done.
Our Vision
IRC is committed to being recognized as the nation's premier roofing contractor by providing innovative solutions that create a high quality, sustainable, and cost-effective roofing system.

We will meet the needs of our customers with honesty, teamwork, and integrity while maintaining a safe and efficient working environment. We will continually set standards of excellence, both personally and professionally, which exemplify dedication to our faith and vision.
Our Mission
Insulated Roofing Contractors provides a high quality roof system, with superior customer service that reflects honesty and integrity, earning us the respect of our employees, customers, and industry.
Our Values
Expertise
Integrity
Superior Quality
Teamwork
Loyalty
Innovation
IRC Leadership
Mike Baird
COO
Rick Stumler
President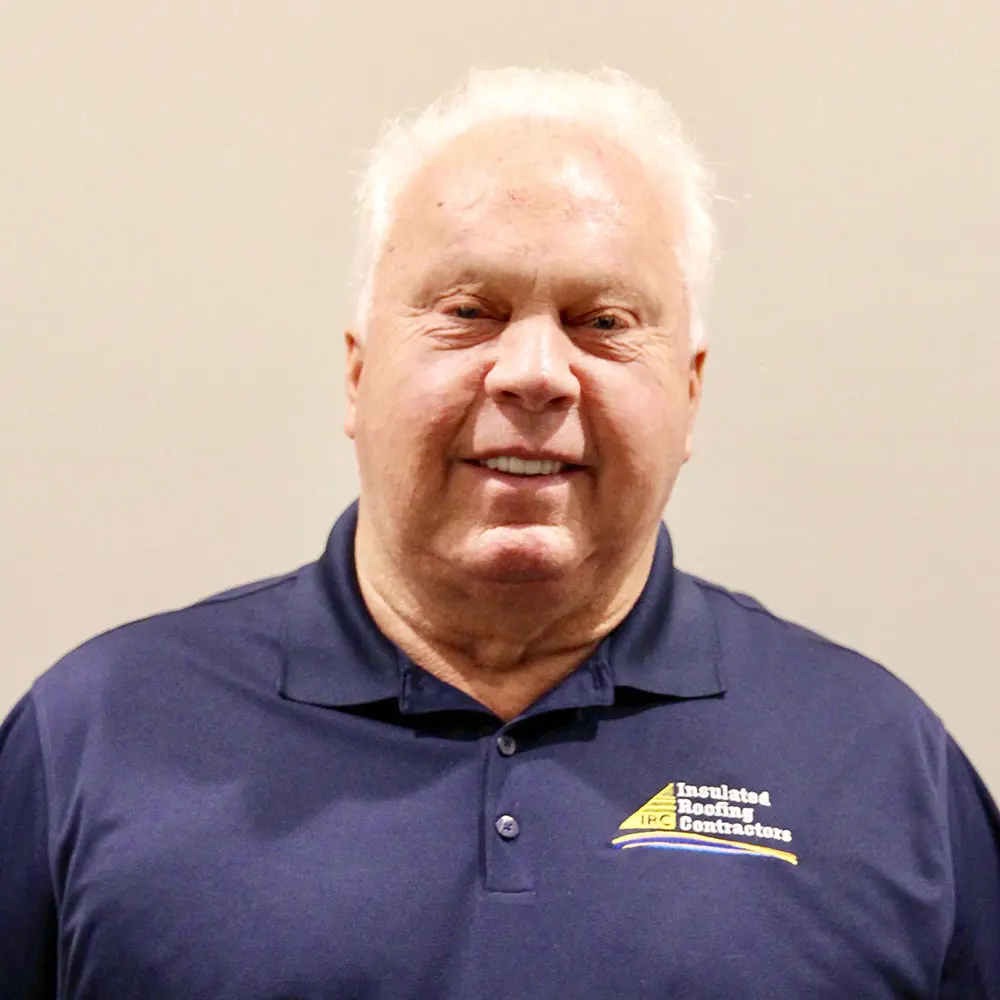 Melvin Stumler
CEO
IRC Sales
Troy Huffman
Single-Ply Roofing Manager
Jamie Hicks
Mid-Atlantic Territory Manager
Jim Kaiser
Regional Sales Manager
David Corrie
Southeast Regional Manager
Casandra Angeles
Project Manager
Kyle Lenn
Project Manager
Luke Clifford
Project Manager
Brent Williams
Architectural Director
Wayne Hampton
Regional Vice President of Sales
Craig Hunter
National Accounts Sales Associate
Billy Wilkins
National Accounts Sales Manager
IRC Admin Team
Ericka Stumler
Human Resources Manager
Justin Osborne
Warranty & Service Manager
Justin Baird
Marketing/Business Development Director
Rich Allen
Safety Director
Zabdiel Ramirez
Safety Assistant
IRC Service Team
Alex Sanchez
Service Technician
Steve Sanchez
Assistant Superintendent
Doug Beutel
Superintendent
Richard Foster
Superintendent
Corey Walters
Superintendent
Tyler Stumler
Production Manager
Informational Resources