SAFETY INSIDE YOUR BUILDING IS YOUR TOP PRIORITY
If you own or operate a building, you know that safety is the first priority. If safety isn't your first priority, it should be. Profits, energy efficiency, and appearance are all important aspects of building operations, but safety trumps all others. You have to keep your building occupants safe. But how?
Consider All Building Occupants
Before we look at various options for ensuring safety in your building, we should remind you that you're not just providing security for your employees, but for everyone who enters your building. Customers, vendors, delivery personnel, and other workers. You're also providing safety for those around your building and on the outside of your building. With that in mind, this is a big responsibility that should not be taken lightly.
On-Site Security
Depending on the location of your building, you may need to have on-site security. This might be a 24-hour situation, in which you have a security presence at all times. It could also mean you have people protecting your facilities only at night or during closed hours. Providing this security will prevent many safety hazards that can arise from crimes.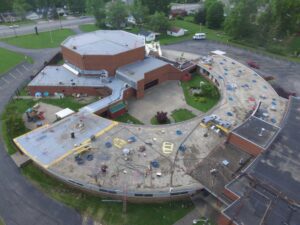 Install a Good Roof
Of course, safety in your building also depends on the performance of the building itself. If you have a bad roof that is leaking, requires repairs often, and exposes the inside of your building to the elements, that is not very safe. A structurally sound and effective roofing system can provide peace of mind for you and safety for all those in and around your building.
Surveillance
While crime doesn't happen often, it presents a major threat when it does. It's one of the less common safety threats, but can be severe when it does occur. Implementing surveillance, and making visitors aware of it, can really curb crime and keep your building safe.
Conclusion
Ensuring safety for everyone in your building should be your number one priority as a building owner. If your employees and customers don't feel safe, you'll miss out on good work or sales. Keep everyone safe, and they'll be happy to work and shop in your building.