PROBLEM
In August of 2005, Hurricane Katrina formed over the Bahamas and, over the course of the next week, made its way to the southern United States. While the storm reached maximum wind speeds of 175 mph, the winds had slowed to around 74-95 MPH by the time it reached the US. These are still devastating wind speeds, as evidenced by the estimated $108 billion dollars in property damage dealt to the US. Many lives were lost due to this natural disaster, and the damage was a result of many different factors, including the wind which damaged buildings, the storm surge, and the complete failure of the levy system in New Orleans – the area most damaged by the storm.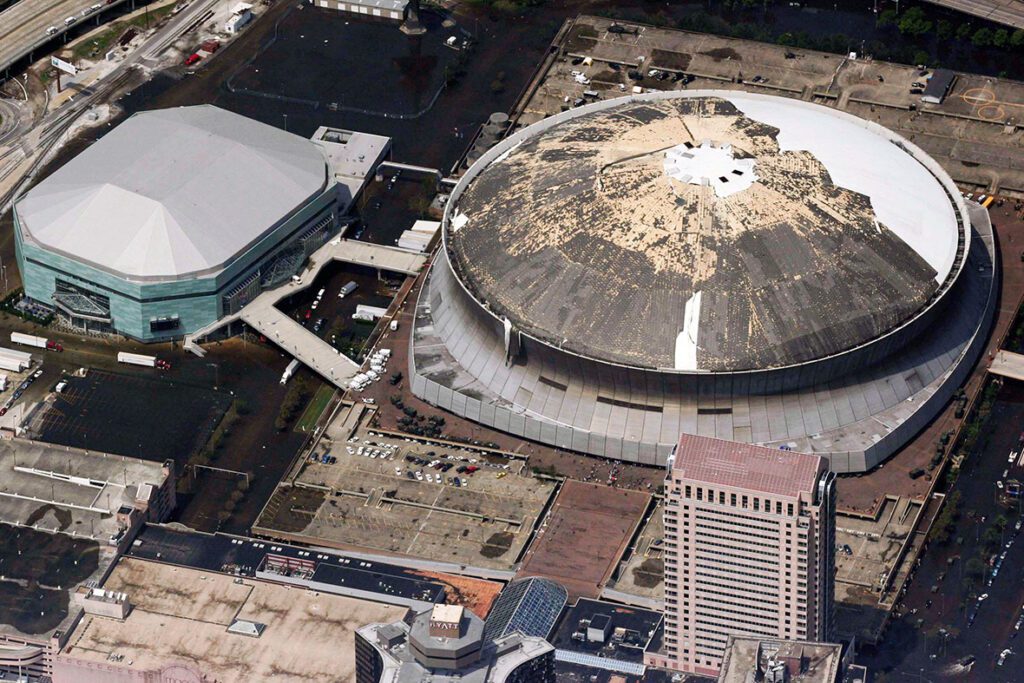 Insulated Roofing Contractors Role in the Recovery
The Louisiana Superdome is a state-owned and funded facility where the New Orleans Saints play football, among many other events. In 2002, the Superdome had an EPDM rubber roof installed, which was claimed to resist winds up to 200 MPH. This obviously wasn't the case when the roof was completely torn apart by Hurricane Katrina.
After seeing the damage to the EPDM roof, the state was not going to make the same mistake twice. They elected to go with a sprayed polyurethane foam roof, which resists wind better than any other system on the market and even offers a wind warranty option.
Power washed the smooth surface built-up roof to remove all dirt and grease stains.
Swept the roof surface to remove any debris left behind from the power washing.
Any damaged areas and lap seams were fixed using a 3 course coating-fabric-coating system.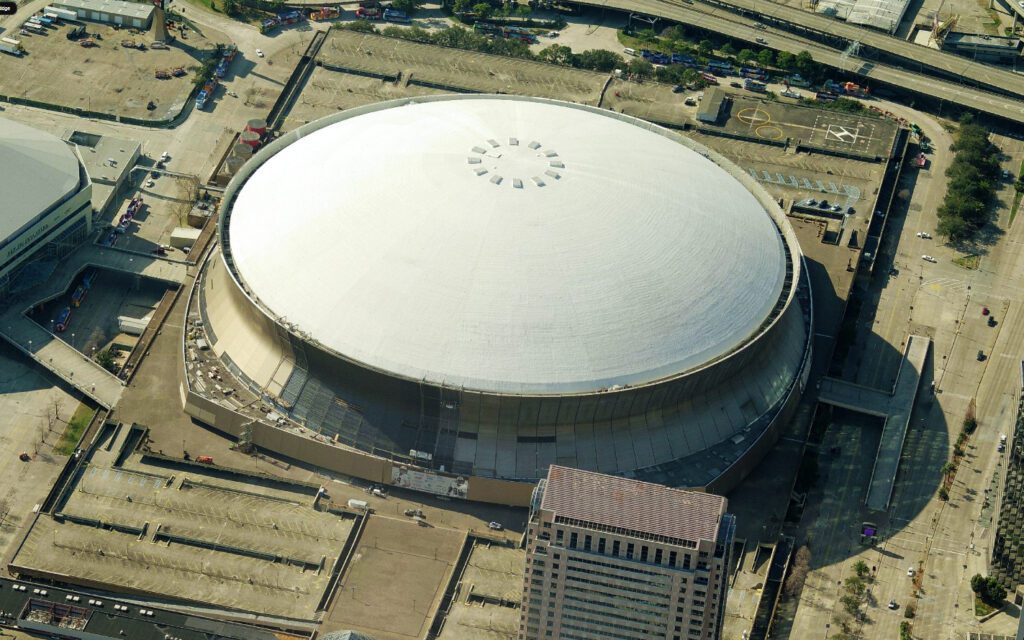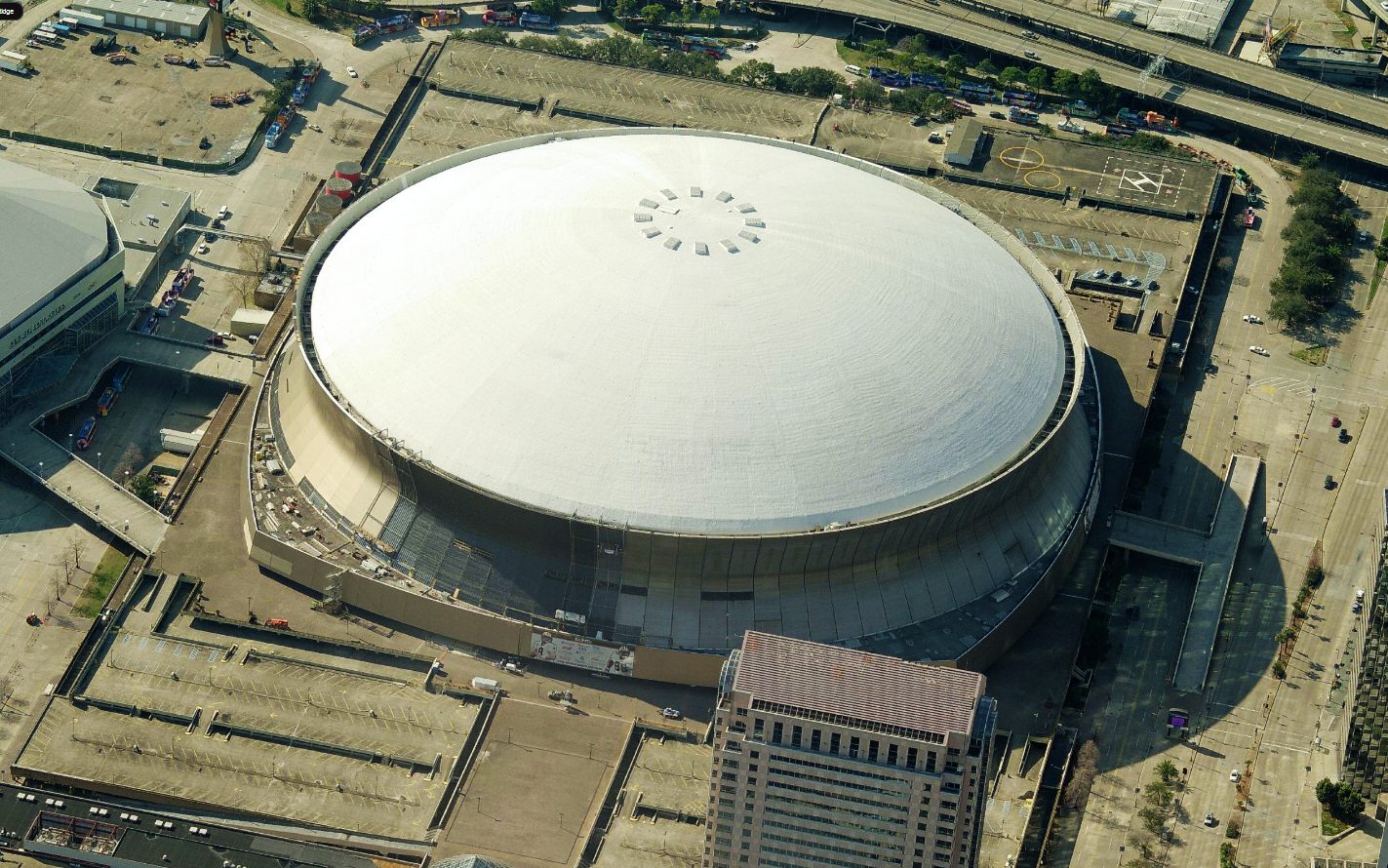 Insulated Roofing Contractors was on the job once spray foam was chosen as the new roofing system. The remaining EPDM roof had to be removed, and the steel decking had to be rebuilt and replaced. Once the steel decking was replaced, the new SPF roof system was applied directly to the new deck. On top of the foam, a urethane coating was applied.
This new foam roof not only received a 10 year manufacturers warranty against leaks, but the roof also came with a guarantee that the roof would not blow off – even in a Category V hurricane. This new warranty is no dollar limit and non-prorated, a huge bonus for the Superdome.
BENEFITS
Increased energy savings
Easy to maintain
Manufacturers warranty for up to 20 years
UL rated, IRI & FM approved
Dade County approved
Seamless, self-flashing and fully adhered
How Spray Foam Prevented Disaster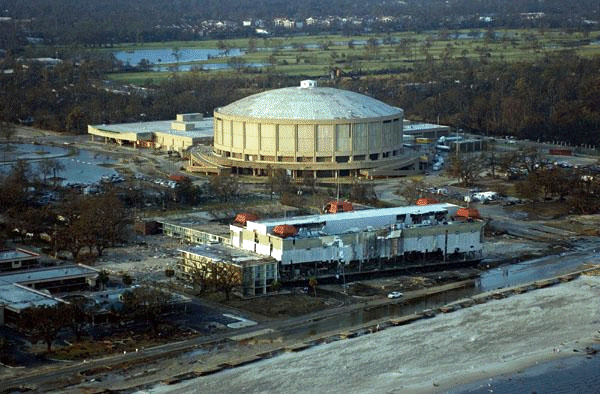 Before Hurricane Katrina hit the US, the Mississippi Coast Coliseum in Biloxi, MS received a spray foam roof. When hurricane Katrina hit, this roof received minimal damage and had no leaks after being hit. In contrast, casinos just two miles away had to be rebuilt. We already knew that spray foam was a great system before this happened, but this served as proof for many "doubters" of spray foam's capabilities.