RECOGNIZING ROOFING PROBLEMS IS STEP ONE OF AVOIDANCE
The following common roofing problems are in no particular order. All of these items are common and important to avoid.
Leaks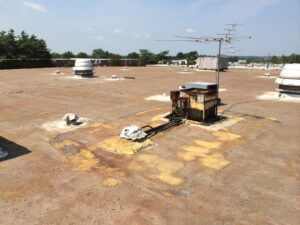 Repairs
Wind
Hail
While hail is a rare occurrence in most parts of the world, it can be very damaging when it does occur. Hail obviously presents a serious risk to roofs thanks to its size and mass, and that is why it is included in this list. It may not be as common as some other items, but the severe damage it can cause is what puts it on this list.
Energy Loss
Another major roofing problem that occurs all the time is a roof that isn't energy efficient. A roof that has poor insulation can lead to you spending extra money heating and cooling your building. A non-reflective roof can also cost you energy-wise. An energy efficient roof can save you money and help the environment, while a non-efficient roof can cost you money every single day.
Foot Traffic
Conclusion
The first step is to know that these are common roofing problems. Determine that you will make an effort to detect them and you can save yourself and your company serious money. You can eliminate lots of headache by solving these problems before they become serious.