WILL YOU BE SAFE WHEN STRONG WINDS COME?
Don't risk the lives of yourself and those in your building. Choose a roofing material that you know will keep everyone in your building safe when high winds come; choose
sprayed polyurethane foam
. To be confident that your roof will remain intact and all those in your building will remain safe, choose the material with the proven track record of
performance
in high wind speed; choose sprayed polyurethane foam.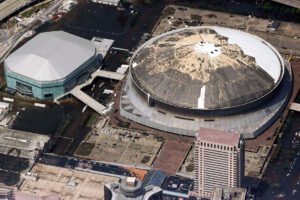 The Material with a Proven Track Record
Many roofing materials claim to have good wind uplift resistance, but they often fail when the rubber meets the road, or better yet, when the wind meets the roof. For a roofing material to be trusted as a true wind-uplift performer, it needs to be able to withstand very high winds. We're talking hurricane and tornado-force winds. A proven track record is basically essential for a roofing material to gain the trust of contractors and building owners. A material that simply claims to resist wind is worthless until it proves that it actually can resist high-speed wind.
Sprayed polyurethane foam has built a reputation on resisting high-speed winds. When Hurricane Katrina hit New Orleans and destroyed the city, spray foam roofs remained intact. When tornadoes cruise through Oklahoma clearing everything in their path, buildings with spray foam roofs stay strong because  the roof strengthens the entire building. This is a system with a truly proven track record.
How to Find a Good Material
If a contractor is trying to sell you on their material as a strong system that resists wind uplift, make sure that the system actually has a good track record by asking for case studies on the buildings they've installed. We're proud of our buildings that survived hurricane-force winds, so we show them off. Other systems should have similar documentation if their buildings are proven.
Conclusion
Find a roof system that has a track record of resisting wind uplift, and you'll be happy with your choice. You don't have to install spray foam, but make sure you consider this aspect of spray foam performance before making other decisions.