LEARN ABOUT VARIOUS COMMERCIAL ROOFING SYSTEMS BEFORE MAKING A DECISION ON YOURS.
We primarily work with three categories of commercial roofing systems: sprayed polyurethane foam, single-ply, and restoration coatings. We will look the closest at those commercial roofing systems. However, we will also look at built-up roofs as well as modified bitumen and metal on a less detailed level.
Spray Foam Roofing Systems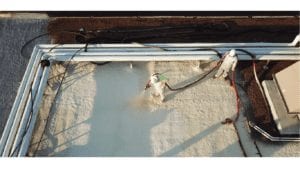 Spray foam roofing systems have become one of the premier flat roofing options on the market today. SPF performs extremely well in terms of insulation, protection from the elements, and useful life. Most SPF systems are expected to last 30-40 years, or more, if installed and maintained properly. SPF is still a fairly new commercial roofing system, so it is still largely understood. One of the greatest difficulties in selling foam is simply helping customers to understand how the system works and the benefits it provides.
Single-Ply Roofing Systems
Single-ply roofing systems tend to fall under two main categories: thermosets and thermoplastics. We explain the details of these categories at this post. The most common types of single-ply roofing materials are EPDM, TPO, PVC, and Modified Bitumen. Most single-ply roofing materials are installed by rolling the material out onto the roof surface and the adhered to the deck and to itself, either through glue, tape, or heat application.
Once installed, single-ply roofing materials are typically highly reflective, which helps to keep energy bills down in the summer. They often have problems with leaks, however, as they have seams that are prone to failure.
Restoration Coatings Roofing Systems
Restoration coatings are a commercial roofing system that depends on another roof or roofing system to operate. You cannot install a coating as your roof, but you can install a coating overtop of your roof. Whether your roof is metal, foam, built-up, single-ply, or almost any other material, you can coat it with a restoration coating.
Once these coatings are installed, they provide a seamless membrane over top of the existing roofing system, which resists ponding water, leaking water, and the elements. Restoration coatings are a great commercial roofing system if you are looking to extend the life of your building, save on energy costs, prevent leaks, and save some money. Restoration coatings are very affordable considering the benefits they deliver.
Built-Up Roofing Systems
Built-up commercial roofing systems have been aroud for many years, and they have stood the test of time. These systems are made up of layers, and the top layer is generally where you see the gravel that is common on so many roofs.
Built-up roofs are a fairly inexpensive roofing option, due to several factors: it is extremely heavy and often requires reinforcing the roof, it is often dangerous to install these systems, and they don't really outperform any other roofing system. If you're looking for an inexpensive, quick covering for your roof, this may be your best shot.
Metal Flat Roofing Systems
Metal roofs have been a trusted commercial roofing system for decades. While it is basically a guarantee that they will resist the elements and last a long time, many building owners are shying away from metal roofs in the recent past. This is mainly because the problems they experience with rust, which often leads to leaks and expensive repairs, aren't worth the benefits metal roofs provide in building owners minds.
While the system is strong, has decent wind uplift resistant, and does a good job of keeping water out of the building, it is not a great insulator, and rust can become a significant problem if it is not closely monitored.
Conclusion
Of all the roofing systems mentioned above, none of them is the right choice in every situation. It all depends on your building's environment, what you want out of your roof, how long you want your roof to last, and a hundred other factors. It is important that you research all of your options but keep in mind, no one source will have the answer for your building.