CAN YOU SIMPLIFY THINGS BY RECOATING YOUR ROOF?
The short and simple answer to this question is yes, you can greatly simplify things by recoating your roof. Specifically if you have a spray foam roof, recoating your roof is a fast, easy, and affordable way to make your life easier. When it comes time to replace or restore your roof, recoating is always going to be easier than replacing. Let's look at the different aspects of recoating and how it can simplify things.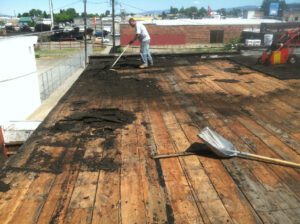 Recoating Is Easier than Replacing
When it's time to recoat or replace, recoating is the far easier option. It requires no tearoff, it requires far less labor, less time, and less money. Tearing off a spray foam roof can be difficult because you have to tear off the foam and then typically also the roof beneath it. Recoating your roof allows you to simply add a new layer of silicone, acrylic, or urethane protective coating without the need for any tearoff. This method will always be easier than replacing.
Recoating Prevents Problems
If you don't recoat OR replace your roof, then you're looking at major problems. once foam isn't protected from the sun by a coating, it begins to deteriorate. This is a slow process, but it will usually lead to leaks and other issues with the roof. Wait too long, and the roof will become so damaged it is beyond repair and then MUST be replaced. So, recoating your roof on time will allow you to prevent problems in the short term, and prevent mandatory replacement.
Recoating Protects Your Roof
Recoating your roof isn't just a solution for 2-3 years; it's a solution for up to 20 years. Tearing off and replacing your roof is often only a solution for 10-15. Recoating your foam roof means it will be connected for another 20 years during which it can protect your building and save you money on energy costs.
Conclusion
The three reasons above are clear examples of how a roof coating helps your foam roof, and how recoating your roof will eliminate headaches and stress from your job. Contact us today to talk about recoating your roof.