Replacing Your Roof With Zero Downtime
For many building owners, they can replace their roof at certain times with no problem. For school systems, summer break is the best time to replace their roof. For government buildings, if the work is done at night there are no disruptions. But what if you are operating a 24-hour facility, or store extremely sensitive equipment that can't be exposed to pressure, temperature, or humidity changes?
When can you replace your roof if your building is always on? The answer is any time with spray foam.
Reliable Roofing Systems When You Need Them
The Any-Time Roofing System
Most roofing systems require the existing roof to be removed prior to installing the new roof. This unnecessarily exposes the inside of your building to the elements and puts your operation at risk. If this is an unacceptable option, it's time to give spray foam a shot.
Capable of being applied over the top of virtually any surface, spray foam doesn't require tear-off like other systems do. Instead of ripping your old roof off, exposing the interior to the elements, covering the hole with a tarp, and then putting the roof back together, spray foam just covers the roof from the get-go.
There is no exposure to the elements, no shutdown of your building, no mess inside, and no disruption to your operations. If you run a time-sensitive business that can't be shut down, spray foam is for you.
No Tear-off, Guaranteed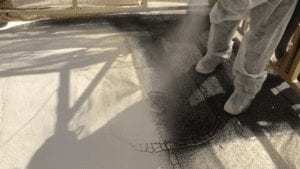 There is typically some tear-off with spray foam, as with any roofing system. Few systems are able to completely avoid tear-off. But whereas other systems require complete tear-off, spray foam typically requires tearing off only 5% or less of the entire roof. In addition to only removing 5% (or usually less) of the roof, spray foam only has to remove the wet, damaged areas of your roof.
Tear-off only has to be completed as far down into the roof system as there is a problem. Traditional roofing systems require tearing everything off, no matter what. Spray foam gives you some flexibility, even if there is a minor amount of tear-off.
Spray foam is a perfect system for replacing your roof with zero downtime. If you have operations that cannot be exposed to a shutdown, spray foam is the perfect choice. It is quickly installed without exposing the interior of your building to the elements. Contact us today if you'd like to learn more about replacing your roof without risking damage to your operations.