KEEP YOUR ROOF IN TIP-TOP SHAPE
Yes, we know just like anyone else that there is no such thing as perfect, spray foam is no exception to this rule. Like most things, making minor roof repairs on your roof is expected, whether it's
metal
, single-ply, or even spray foam. Making minor roof repairs when they come up will keep your bank balance happy and keep your mind worry-free about any leaks.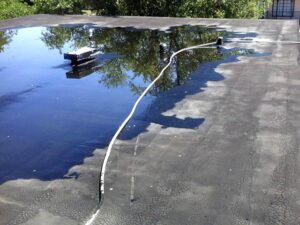 Preventing Major Costs by Making Minor Roof Repairs
Minor roof repairs should be simple, fast, and affordable. If you notice a repair that seems to be minor give a roofing contractor a call and let a professional know right away. The sooner the minor problem is fixed, the easier the job can be done. Don't wait until that single leak turns into ten leaks, because minor repairs that can be quick and painless can turn into a nightmare if left untreated. Don't end up paying a fortune for a major repair that could have been avoided, get the minor repair taken care as soon as possible.
Conclusion
Minor repairs are much more affordable than major repairs. Minor repairs won't use as much heavy equipment as major repairs will, minor repairs will also have a smaller crew size which cuts down on labor costs, and minor repairs can be completed more quickly than major repairs will. All of these factors will contribute to a lower rate for you. Make sure to inspect your roof regularly for any damage and write it down. Sometimes fixing a roof can't be done right away, but don't neglect your roof and as soon as the opportunity arises for your roof to be fixed, make sure you get it done. The sooner these minor repairs are fixed, the less money you will spend.