AVOIDING MAJOR ROOF REPAIRS
Major repairs aren't as common as minor repairs but they still do happen from time to time. Major repairs happen when there has been severe weather, neglect, old age, or even improper installation. With major repairs being so extreme it is recommended that you go ahead and hire a professional roofing contractor for the job to make sure the roof is repaired properly and only minor repairs will be needed once the major issues are resolved.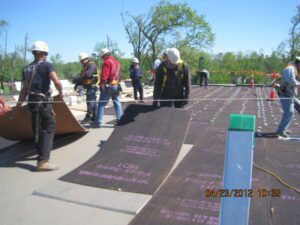 Providing Top-Notch Customer Service
Here at Insulated Roofing Contractors, we know that major roof repairs can be very stressful. Not only is making these major repairs going to be pretty costly to get fixed, you will also have to hire a contractor to get the job done, and nobody looks forward to doing that. Rest assured that we take pride in our
customer service
. We want to make the roofing experience hassle free, and get the job done in a timely manner so you can have that headache relieved as soon as possible.
Most people don't realize that a minor repair, such as a simple leak, can turn into a major repair that will effect them tremendously if they do not take care of their roof properly. Neglecting your roof problems only creates bigger problems, so if there is minor repairs that need taken care of make sure you do so, so that roof doesn't cost you lot down the road.
Trust the Contractor with the Proven Track Record
Whether these major repairs are from severe weather or just simply old age, making the decision to hire a roofing contractor can be nerve-racking because you aren't sure who to trust. Before choosing a contractor make sure you research all your options. Be sure that the company you choose is credible and has reliable references to their name. But if you still are unsure, know that we have been a trusted roofing contractor for over 40 years!  If you think you have a major roof repair, or even a minor one, don't hesitate to give us a call – we'd be more than happy to talk further about what needs to happen to make your old roof transform into a brand new, state of the art roof.
Conclusion
If you have a major repair you need to make to your roof, or a minor repair that is becoming a major issue, give us a call. We'd love to show you our excellent customer service and get your roof taken care of.