WHAT COMMERCIAL ROOFING MATERIALS ARE AVAILABLE TO YOU AS A BUILDING OWNER?
The commercial roofing material market is full of participants. There are many different materials that can be used on commercial roofs, each of them having been designed for a specific environment, scenario, and climate. Commercial roofing materials have improved greatly in recent years, and while many of the older systems are still used today, most of them are used in different capacities than they were 20, 30, or even 40 years ago. These improved systems and materials mean that commercial building owners now have more viable options available to them than in the past. Let's look at some of the older systems typically found on commercial roofs, and then their newer counterparts.
Older Commercial Roofing Materials
Among the older commercial roofing materials are rolled asphalt, single-ply materials, and built-up roofs. Rolled asphalt commercial roofs are made up of felt or fiberglass that is rolled in strips onto the roof. The strips are then adhered to the roof surface with nails or asphalt cement. The rolls are usually covered with a granular surface after installation for added durability. These asphalt rolls are one of the most affordable commercial roofing materials, but they aren't as durable as other systems and don't last as long.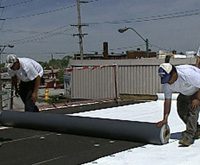 Single-ply roofing materials can typically be compared to plastic or rubber. These rolls are often self-adhered to the roofing system, but occasionally they need an outside adhesive to ensure they don't peel away from the roof. Common single-ply materials include TPO, PVC, and EPDM roofs. Each of these three systems is typically white in color and they are all praised for their UV reflectivity. Single-ply materials have been around for a very long time, and they have a longer expected life than rolled asphalt.
Built-up roofs (BUR) are the final "old" commercial roofing material we will look at. BUR come in two varieties, gravel BUR and smooth BUR. Gravel BUR are the "tar and gravel" roofing systems you may have heard of before, and they have been used for over 100 years. These roofs are made up of layers, alternating between felt and asphalt, with a top layer of gravel or mineral granules. They occasionally receive a coating of fiberglass, which is hot mopped onto the top layer to protect the felt underneath. Smooth BUR systems are no different than gravel BUR systems, except that they do not have the gravel or granular layer on top. These systems can be expected to last 30+ years, and are great insulators over the course of their life.
These three systems have stood the test of time, and have lasted into today's commercial roofing market. While they have received tweaks and improvements along the way to stay competitive in the commercial roofing material market, they resemble the roofing materials that have been around for many years.
Modern Commercial Roofing Materials
Metal roofs are a more modern development in the commercial roofing market. They are also used in residential roofs. These systems are often made of aluminum, copper, or steel, and can offer durability at a light weight. Perhaps metal roofs are more suited for steep slope residential buildings, as the seams in the system often leak and faster draining water would help to minimize the leaks in the system. However, metal roofs are extremely common in commercial roofing systems, and building owners simply need to be conscientious of the issues that can develop at the seams.
One of the most popular commercial roofing materials is roof coatings, also referred to as restoration coatings. Most roof coatings have been around for less than 50 years, but they have made some major waves in the commercial roofing industry in that time. They aren't a standalone commercial roofing material, but are designed to be applied over top of the existing roof. Once applied, they provide the roofing system with waterproofing properties, enhanced UV resistance, and often come with 10-20 year, full replacement warranties.
Finally, sprayed polyurethane foam (SPF) is a very new commercial roofing material that is gaining popularity in the market every day. SPF is an extremely cost effective roofing solution, with users reporting that it pays itself off in energy savings very quickly. The system is extremely "green", as it has the highest R-value on the market, can be renewed with only a coating replacement every 10-20 years, requires no tear off of the existing roof, and resists weathering and water better than any other system. SPF roofs are extremely inexpensive when the benefits provided are considered.
Conclusion
Commercial roofing materials have seen many innovations and improvements over the years, but there are still only a few truly viable options available to building owners today. If you are interested in any of the materials above, click the links in each section or call us to learn more.