IS YOUR BUILDING A GOOD FIT FOR SPRAYED POLYURETHANE FOAM?
Sprayed polyurethane foam is a fantastic roofing product that has some major benefits. However, we know that it is not the optimal system in every situation. It's a great system in most situations, but in certain cases a metal roof, or concrete, or single-ply, or spray-applied coating roofing system may work better. To make sure your building is a candidate and a good fit for sprayed polyurethane foam, check out some of the best situations for foam below and see if your building fits.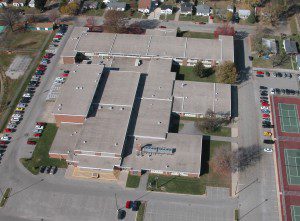 Spray Foam in Schools
One of our favorite industries to work in is the education industry. We love picking up school projects because they are typically large, flat, metal roofs that make foam a wonderful retrofit option. We constantly seek out opportunities to do work on schools. From elementary schools to high schools to major universities, the education industry is a great fit for spray foam.
Spray Foam in Healthcare
We also love to work on buildings that house healthcare facilities. The large, often high-rise buildings that have complicated protrusions and roof features are a great fit for spray foam thanks to its versatility. Spray Foam can be applied in busy metropolitan areas with nothing more than a single truck and trailer. No need for cranes, lifts, or scaffolding which other roofing systems may need. This means we can get in and out quickly with minimal mess and headache.
Spray Foam in Office Spaces
Spray foam is also extremely useful in office spaces as it helps to control the building temperature, which studies have shown has a major impact on worker productivity. The ability of the foam to be installed without complete tear off of the existing roof means that work never needs to halt, no employees need to move, and no accommodations need to be made during the installation process.
Spray Foam in Hotels
We have installed spray foam roofs on many hotels during our time, and these roofs provide great benefits to the owner. On top of holding the building temperature steady, the hotel doesn't have to be shut down and can continue generating revenue. Foam can be used on exterior walls and in floors to help dampen the sound transfer between units as well. We don't install foam anywhere but on the roof, but a complete envelope system holds great benefits for the hotel.
Conclusion
Above are just four examples of great fits for foam in today's buildings. Each of these buildings receives a slightly different value package from foam based on what its needs are, but the point is clear that foam is extremely valuable in many situations. If you'd like to see if your building is a good fit for foam, give us a call and talk to a salesmen.