WILL FLAT ROOF COATINGS BE YOUR NEXT ROOF?
Flat roof coatings are a new contender in the roofing market. Not because they are a new product, but because they are being used in a new way. For the past 40+ years, flat roof coatings were used only as a protective coating over spray foam roofs. Then, after years of experimentation, contractors discovered they could be used to rehabilitate and protect existing roofs of almost any kind, not just spray foam.
What happened next has been nothing short of an explosion in popularity. Flat roof coatings now hold a significant market share in the roofing industry and are growing faster and faster every year. There are a few key advantages of flat roof coatings that have caused this amazing growth.
Advantages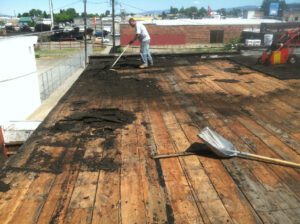 The most significant advantage of flat roof coatings is that they eliminate the roof tear off process in almost every case. Rather than tearing off your existing roof and completely replacing it, flat roof coatings allow you to simply apply a coating over top of the existing roof and rehabilitate it that way. This reduces labor, job cost, and eliminates waste going to landfills. It's an inexpensive and green option, which is very rare.
Another advantage of flat roof coatings is that they are renewable. At the end of the coating's life, you can simply apply another layer of coating and renew it. Again, no need for tear off. Just apply a new coating over the old one.
Disadvantages
One disadvantage universal to all flat roof coatings is that they depend heavily on a competent contractor. If the contractor doesn't know what they are doing, they can really mess up this process. Of course, that is true with any roofing product, but it is exaggerated with flat roof coatings because they are a growing market with relatively low barriers to entry, which is attracting a lot of new contractors who may not exercise their due diligence and train their employees properly. This is why it is extremely important to use a reputable contractor and evaluate their past projects and customers.
Some roof coatings such as acrylics, also have limitations when it comes to ponding water. This weakness is a case-by-case weakness, as some systems such as a silicone roof coating can resist ponding water.
Conclusion
It's not hard to see why flat roof coatings are growing in popularity so rapidly; they provide major advantages with disadvantages that can be overcome. They offer an extremely affordable roof rehabilitation option with few drawbacks. They are a great roofing product that we foresee continuing to grow.